Undertaking a building project can be a rewarding but complicated task. An architect can make each stage go more smoothly and add value to the project. Whether it is new construction or renovation of an existing building – residential or commercial – there are hundreds of decisions to make, options to evaluate, and codes and zoning questions to navigate. An architect is professionally trained to help you plan, design, and implement a building project that meets your goals both aesthetically and functionally, and meets your budget.
At Frazier Associates, we realize that undertaking a building project, whether it's your home or business or a development property, is one of the biggest investments you may make. We are committed to working with our clients as partners to create a home or building that fulfills your vision through the best possible design solution. To meet this goal, our design process emphasizes clear communication about project requirements, budget parameters, and design aesthetics. As architects, our design approach is one of creative collaboration that reflects the owner's preferences and acknowledges the existing context of the building or site.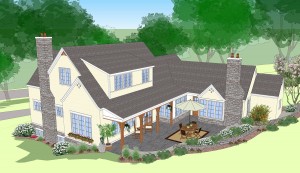 The following are a few of the questions that an architect can help you address:
How do I plan the project?

Engaging an architect early in the planning stage saves time and streamlines the process. In gaining an understanding of the site or existing building and your vision, an architect will create a scope of work that organizes tasks and meets your overall project goals.

What zoning and building codes do I need to understand?

An architect is experienced in researching and evaluating building and code requirements to ensure that your project is designed to meet regulations.

How do I achieve the style, look, and features I want in a building or addition?

Working with you to understand and develop your style preferences is part of the design process. Often questionnaires and samples of photos and images help develop this aspect of the project. The architect will then incorporate your preferences through the overall design and detail drawings for the project. Having fully detailed architectural drawings and material specifications, and working with the contractor to implement those details, is the best way to achieve your vision for the project.

How much will the project cost and how can I get accurate estimates before I start building?

An architect can help you plan for project costs based on related projects and experience, and can often save money by designing a more efficient building. They can provide options for cost savings through design, phasing, or materials from the planning and design stage and through construction. While hiring an architect may add cost, overall it adds value to the project by creating a well-planned and detailed project that addresses budget issues throughout the process and avoids unexpected circumstances in construction. Making changes on paper in the planning process is much cheaper and easier than during construction when the contractor is standing there with hammer in hand wondering what to do next!

With so many new products and technology on the market today, how can I find out which ones are best for my project?

Research and experience by an architect can help you sort through the many options in products for your project from energy saving measures and mechanical systems, to siding, lighting, and flooring choices. This can help you achieve your goals and save you time and money.

How can I find a reputable contractor and how long will the project take to complete?

An architect can help with bidding and negotiation by meeting with potential contractors and obtaining cost and time estimates for your project. Working with you to ensure that a contractor follows the intended design, stays within budget, and remains on schedule is a valuable part of helping you achieve the vision for your completed project.
Contact Frazier Associates today to find out how we can help with your residential or commercial building project!