New Victorian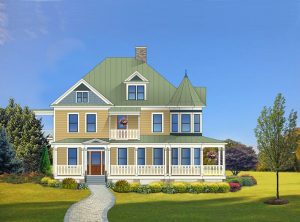 "Years ago, my wife and I bought plans from a magazine for the neatest little Victorian farmhouse, intending to build it for our retirement dream house. As life moved forward and we acquired more family heirloom furniture we got the suspicion that maybe we needed something a little bigger. I decided to see if an architect might be able to help. I hoped we could do some minor adjustments to our plans without spending bags of money.
We first heard of Frazier Associates through some of their commercial and public projects but didn't realize how much residential design they did until I looked at their website. The initial interview was with Kathy Frazier and Annie Mathot. They were very interested in the plans we brought and had great ideas on how we could modify them to get what we wanted.
It was all about what we wanted and how to get it without breaking the budget.
Kathy suggested that they could also sketch up a few ideas we might like, starting from scratch and give us an idea of the cost. The following meeting, they gave us three different house sketches based on our plans and the input we gave them at our first meeting. We loved all three options, I mean we were completely blown away by them, so much more than the plans we already had; and decided to move forward with custom plans.
We loved the design and the whole process. They were so interested in everything we had to say, every suggestion we had. We were totally engaged in every aspect. The look was exactly what we wanted. Perfect. The rooms, the light, the massive number of windows, the great porches, the tower room, every box on our list was ticked and many things were added that we never thought of.
That's why you want an architect.
They've done this before. They see things that you won't see until the footers are poured or the framing is up or, heaven help you, until you move in. If you think an architect is expensive, try moving a load-bearing wall one foot after it's built.   Every time we needed a dimension or method for building an element, there it was on the plans. Right there we saved thousands in construction costs by never, ever having to go back and do something over. No wasted labor, no wasted materials.
It is completely unique and entirely us.
We've been living in the house Annie and Kathy and really, all the staff at Frazier designed for two years now, and we still love it. I mean, over the moon, love it. We cannot imagine a more perfect house for us and that's amazing. There is nothing we want to change, nothing missing, not a square foot we don't love living in. Yes, we did spend more than a set of magazine plans, but this is the house we want to live in forever. It's our house. And Frazier didn't cost as much as I'd been led to believe. Moreover, Kathy gave us a price at the third meeting and that was what we paid in the end. Bang, done, shake hands and it's over.   No nonsense, always ready to answer a question when we had them, but no massive add on bills.
You're probably going to do this only once in your lifetime. What's it worth to get dead on exactly what you want?"
Visit this project's portfolio page to learn more.
Augusta County Client, 2017
New Victorian
Craftsman with Mountain Views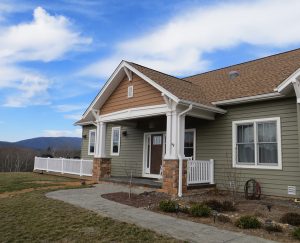 "The goal of our project was to preserve and maximize the views of the natural beauty of our building site, while turning Mother Nature into a warm, comfortable, inviting "forever home."
Aging-in-Place Design
Since we wished to age in place, we wanted all the main living area on one floor, yet have separate and private rooms for our large extended family and (eventually) a possible live-in caretaker with separate parking and entrance to the house.  Since the building site is steeply hilly, rocky, and occasionally very windy, we knew special planning and accommodations would have to be done.
Dreaming, scheming, article-and-picture clipping
Our architect helped the most in being able to turn our years of general dreaming, scheming, article-and-picture clipping, into concrete and achievable plans.  In addition, it was invaluable to be able to have our builder talk to the architect during the process; the synergy was a great advantage.
A local contact to help expedite the process
What was most helpful about working with Frazier Associates was having a local entry to the Staunton community.  Living and working in Hampton Roads while building in the Shenandoah Valley, meant that we could only visit the Valley and the building site every few months until the construction was started.  Once construction did begin, it was also useful to have a local contact to help expedite the process.
For us, our favorite, most unique feature of our design is the combination of the traditional -Craftsman styling, wood and stone- with the modern open floor plan, light, space, and views, views, views."
Visit this project's portfolio page to learn more.
New Homeowner, 2017
Wintergreen Residence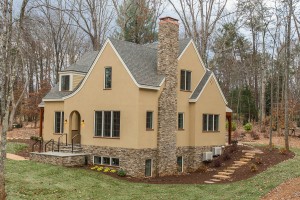 We initially contacted Frazier Associates as a potential architect for our retirement house in Nellysford VA. After meeting with their team we accepted their proposal and began working closely with our architect, Annie Mathot. Interactions moved from overall style and basic room layout to progressively more specific details about every aspect of the house.
Knowledgable about pros and cons of design alternatives
Annie was able to capture exactly what we were looking for as a concept and then guide us in making the multitude of decisions and choices involved in turning that concept into a set of plans. Meetings with her were always a pleasure (we actually enjoyed the process), and she was always knowledgable about pros and cons of design alternatives. She kept in close contact via email on an almost daily basis as the project moved forward.
On schedule and on budget
She and Frazier Associates kept everything on schedule, and prepared all of the required plans and drawings within the initial cost estimate. They provided suggestions for selection of a builder, and recommended the builder we eventually selected. Their knowledge of and experience with local builders was invaluable here since our house was not the typical residential construction project for the area. They continued to assist us throughout the process of getting the house built, interacting with us and the builder on a regular basis. Our vision was to have a "new old house" that had the feel of an older home, and Frazier Associates made it possible for us to achieve our desired result.
Visit this project's portfolio page to learn more.
Client, 2012