Architect Position with Experience in Historic Preservation and Adaptive Reuse
Award winning firm of 35 years located in Virginia's first Great American Main Street, Staunton, seeks a licensed architect with specialized experience in historic preservation, adaptive reuse, and historic tax credit projects. We are looking for a new professional associate committed to quality design, a true team player with a friendly diplomatic manner. We are a Mac based firm and use Archicad, SketchUp, and Adobe products for our projects.
Frazier Associates is a woman-owned small business with completed projects in over 100 Virginia communities. We were AIA Virginia's firm of the year in 2017 and have received over 100 awards at the national, state, and regional levels.  Our office culture is family oriented and we discourage late night and weekend work. All our employees have families and a life outside of the office, which we strongly encourage. See our website www.frazierassociates.com for more information.
The Shenandoah Valley and Staunton are too unique to miss out on the wonderful lifestyle they offer. Many young families are new residents; there is a rich music, art, and food scene, and an increasingly diverse population. We encourage our employees to be civic minded and to help make our community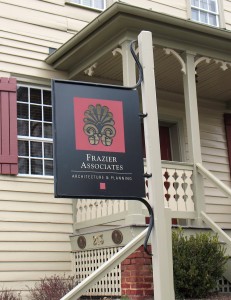 a better place, but that is up to the employee to decide depending on his/her other obligations. Staunton has been the recipient of nearly 50 awards and national media recognition for its vibrant Main Street, its long-term commitment to historic preservation, and its priceless collection of sophisticated and important historic architecture.
Join us in providing contextual designs for historic buildings and new structures in a historic setting. Benefits include health insurance, paid vacation, sick leave, and ample holidays, regular bonuses, and a 401k retirement fund with an employer match after one year of employment. Salary is negotiable depending on history. References are required.
Please send resume to:
Kathleen Frazier, FAIA, Frazier Associates
213 N. Augusta Street
Staunton Virginia 24401
or email to info@frazierassociates.com with Architect Application in Subject line.