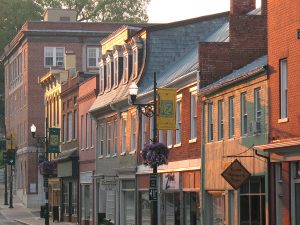 Creating A Vision for the Future through Revitalization
Downtowns are the heart of a community, growing through time and ultimately creating a unique sense of place that offers a distinctive environment rich in character, details and materials. As a partner committed to the preservation and enhancement of that historic legacy, Frazier Associates helps communities build on the strength of their downtowns and develop a new vision for their future with a variety of architectural and planning services.
Through a broad-based dialogue with all stakeholders, Frazier Associates strengthens the integrity of the community planning and design process. Our services to downtowns include façade assessments and façade improvement programs, feasibility studies for key downtown buildings, gateway and corridor enhancement plans, streetscape plans, downtown wayfinding and sign systems, historic district design guidelines, and Community Development Block Grant and Community Improvement Grant projects. Detailed research and careful analysis provide the basis for these products and services. We often work closely with state and local Main Street programs and other community revitalization organizations.
Main Street Program
Since 1986, Frazier Associates is proud to have served as the architectural design firm for the Virginia Main Street program. Participating in this vital economic development and historic preservation program for communities keeps us in touch with what's happening in downtowns across the state, and allows us to develop our services to meet the changing needs for Main Street communities while preserving and celebrating their rich histories. We support the four-point approach developed by the National Main Street Center, integrating design work with organization, economic restructuring, and promotion.
Building Downtown Community & Consensus
Beyond working with bricks and mortar, we realize that for any downtown revitalization program to be successful, as architects and planners we need to build relationships with people in the community. From property owners to merchants, from City Council to public works departments, from Main Street board and committee members to program directors, and from the public sector to the private sector, we have a deep desire to help all members of a community achieve their vision for downtown revitalization.
For more information about our specialized services in downtown revitalization, call our office to find out how we can help you and your community launch improvements in your downtown.