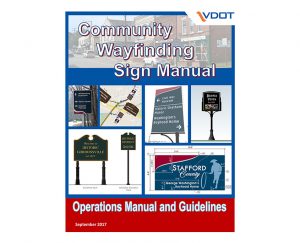 The Virginia Department of Transportation (VDOT) recently published and adopted a Community Wayfinding Sign Manual that provides a consistent statewide policy and outlines step-by step procedures for localities to gain VDOT approval for developing and implementing, wayfinding sign systems. The manual addresses design, locations, spacing, legibility, and safety factors for communities and designers to follow in creating signs. It delineates specific procedures for sign program development and planning, as well as construction and maintenance.
As stated in the manual, "Virginia is rich in historic, cultural, and recreational destinations and communities are increasingly recognizing the economic benefits of marketing to the public through specialty directional signing. Wayfinding programs are considered an integral part of promoting tourism and competing for the economic benefits. A well-crafted wayfinding sign system provides an opportunity to educate and inspire the traveling public and promote visitation to some of Virginia's great destinations."
In developing the Sign Manual, VDOT collaborated with The Federal Highway Administration, Virginia Municipal League, Virginia Association of Counties, Virginia Tourism Corporation, various counties and cities, and numerous individuals, including Kathy Frazier, AIA and Sandra Hanger, SEGD, of Frazier Associates. Several test pilot wayfinding programs were used to help determine the process and requirements for the manual. Among those were three of Frazier Associates' wayfinding projects, including the Historic Triangle in Williamsburg, James City County and York County, which was the state's first regional wayfinding system. Stafford County; Rockbridge County; and Gordonsville followed this. Frazier Associates is pleased to have worked with VDOT representatives, particularly Rick Burgess of the Central Office Traffic Engineering Division, on these test studies to streamline the process for communities to implement wayfinding systems across the state.
Click here to read more about Frazier Associates wayfinding services.